{{ timeAgo('2021-06-11 07:42:56 -0500') }}
football
Edit
Gavin Griffiths shoots, scores and is only going to get better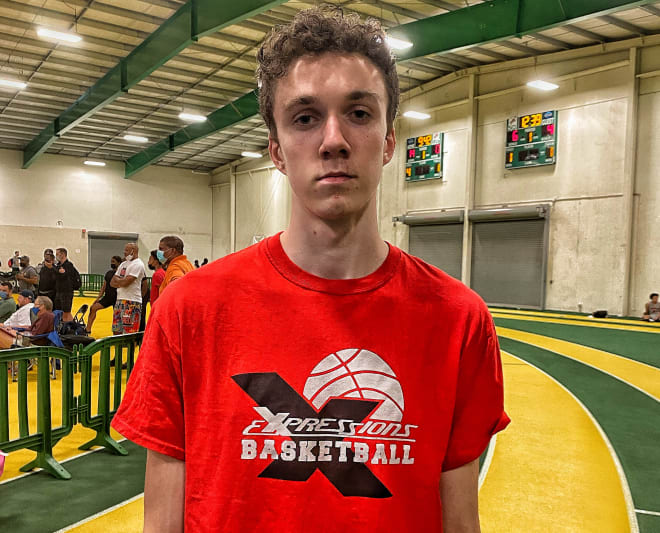 As the old adage goes, if you can shoot you can play anywhere. And 6-foot-6 2023 small forward Gavin Griffiths is forging his reputation as one of the Northeast's top shooters.
"My best attribute is that I score the ball. I try to play inside, out. I shoot threes really well, and from there I try to work my way inside. I feel I have an underrated inside game, which I am still working on, too," Griffiths said.
With his size and ability to shoot, the West Hartford (Conn.) Kingswood Oxford wing has picked up some interest from college coaches.
"I have offers from Syracuse, UMass and Siena right now. I don't have any visits planned as of right now. I am really focused on making myself the best player I can be."
*****
MORE: Cassidy Awards from Pangos camp in Vegas | Takeaways from the first two days of the Pangos camp
2021 Rankings: Rivals150 | Team | Position
2022 Rankings: Rivals150 | Team | Position
2023 Rankings: Top 30
*****
*****
IN HIS OWN WORDS 
Syracuse: "I watch them on TV all the time, you know they are known for their 2-3 zone. We talk to their assistant coach the most, and I was really excited when the offer came. I think most of their players are tall and lanky and can shoot it pretty well. I feel I fit that mold."
*****
UMass: "UMass is close to my home in Connecticut, about 45 minutes away, so I went to a lot of their games growing up. I actually think they were the first college game I ever went to, so it was pretty cool for them to be my first offer."
****
"With the way the restrictions are right now my coaches are handling a lot of the recruitment, especially with the schools who haven't offered yet. I know Stanford and Notre Dame are two who are in contact."
WHAT'S NEXT? 
"At the end of the day, I am going to want to go to whichever school shows they want me the most, whoever shows me the most love," Griffiths said.
RIVALS' REACTION 
Griffiths has built his reputation as a scorer, so it is refreshing to watch him play and he knocks down shots at a high clip. He has long arms and great positional size and the Expressions (Mass.) EYBL 16U wing plays with a bit of a swag as well. He will need to continue to get stronger and continue to develop his half-court ball skills, but Griffiths is more athletic than one might think and the jump shot is a very real weapon from all over the floor. Expect Griffiths to enter the 2023 Rivals150 when we update.