Rapid Reaction: Freeman commitment is yet another win for Red Autry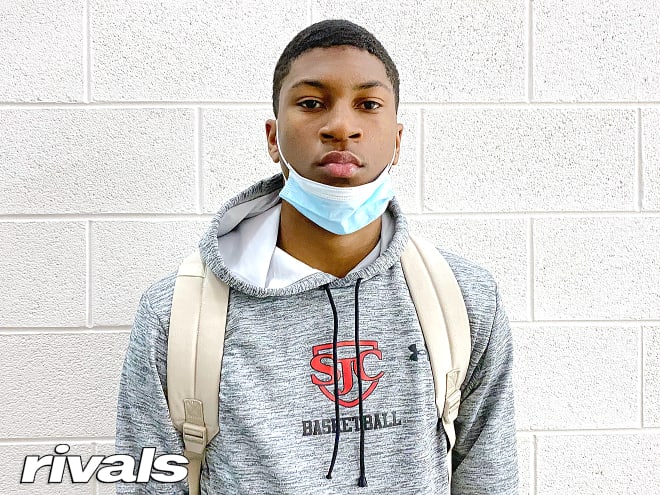 2024 forward Donnie Freeman committed to Syracuse on Thursday afternoon, he announced.
Freeman picked Syracuse over finalists Alabama, Georgia Tech, Iowa and Texas.
The 6-foot-9, 200-pound forward is a Rivals four-star recruit and the No. 54 overall prospect in his class.
RAPID REACTION
What an incredible nine-week run it has been for Adrian Autry and his coaching staff, lead assistant Gerry McNamara, Allen Griffin, and newcomer Brendan Straughn as the foursome continues to mold the SU roster for the next two seasons.
Thursday's announcement by 6-foot-8 forward Donnie Freeman from Washington D.C. that he's headed to the Orange program makes it a 1-2 punch for Autry's first recruiting class. Freeman joins New York City guard Elijah Moore, who committed to Jim Boeheim in January, as the core of Autry's impressive first recruiting class.
Freeman, who is still growing, is a top 10 talent at his position, and is tall, long, versatile, and athletic. He's the type of player that shows Autry is bringing back top-rated recruiting classes on an annual basis to the Cuse program.
With Freeman and Moore highlighting the 2024 class, next up for the staff is nailing down one more big man for the upcoming season.
The 7-foot-4 Naheem McLeod just said he's going to announce a top 5 in the near future after a recent Syracuse campus visit. McLeod would bring much-needed experience at the center position as a player who's gone up against top level ACC competition the last two seasons averaging 13 minutes per game for the Seminoles.
Whether it's the transfer portal or on the recruiting trail, in under three months Autry has already invigorated the program's future with his roster management skills, displaying a distinctive mark on how he plans to bring the program back to consistent ACC and national success.
----
Chat about this story and all things Syracuse and Syracuse recruiting on our premium message board, Cuse Classified!
Follow us on Twitter @TheJuiceOnline, like us on Facebook, follow us on Instagram @SUJuiceOnline and listen to our podcast.
Tips/questions/concerns? E-mail Recruiting Analyst Charles Kang here.
Not a subscriber to The Juice Online? Join today for access to all our premium content and message board community.